美國愛荷華大學 ‧ 院校簡介
---
The University of Iowa is proud to be an institution whose top priorities are high-quality education, world-class research, and deeply committed service. Since 1847, we have been educating students of all ages who have made positive impacts in their communities – within Iowa and throughout the world. Iowa offers over 100 areas of baccalaureate study plus graduate and professional programs in over 100 areas, such as medicine, dentistry, law, education, business, engineering, the social sciences, the physical and biological sciences, and the arts and humanities. The University is internationally recognized for its high quality education, research and faculty.
IOWA工商管理學士(BBA)課程特色
---
The Bachelor of Business Administration (BBA) program in the Henry B. Tippie College of Business prepares students for a career and a full life during their first job and beyond. In addition to specialization in six majors, the college also offers a minor in business administration, and three certificate programs. Graduates have opportunities for careers worldwide and for graduate study in many fields.
Business Majors
---
The college offers six undergraduate majors that lead to a BBA degree:
Accounting
Business Analytics & Information Systems
Economics
Finance
Management  (online option available)
Marketing
​如欲了解更多課程資訊或申請入讀美國愛荷華大學工商管理學士學位課程,請致電65802368與我們的教育顧問聯絡

IOWA工商管理碩士(MBA)課程特色
---
Top-ranked MBA – Tipple College of Business of The University of Iowa has an international reputation as one of the world's best business schools. By earning an MBA consistently ranked by Financial Times, U.S. News & World Report, and Forbes, you'll enjoy world-class experience with high-caliber classmates.
Work as you learn – Keep your career trajectory moving upward and earn your MBA at the same time. Our program is ideal for working professionals. Each course only takes two week-ends.
Achievable – 15 months, no thesis, no term-end examinations.
Flexible – Start your journey for a higher, prestigious academic achievement any time of the year, as you see fit.
* subject to program schedule
Modules
---
Program Schedule*
Foundations in Strategy
Marketing Management
Int'l Economic Environ. of the Firm
Corporate Financial Reporting
Management in Organizations
Managerial Finance
Product and Pricing
Leadership & Personal Development
Business Analytics
Operations and Supply Chain
Dynamics of Negotiations
* The schedule is subject to change due to unforeseen circumstances.
Learning & Teaching
---
Iowa faculty come to you: You'll learn, in person, from the same faculty who teach in Tippie's on-campus MBA programs. They make up a team of academic professionals who are internationally recognized for their research and achievements.
Mode of study: Part time, Tutorial
Duration: 15 months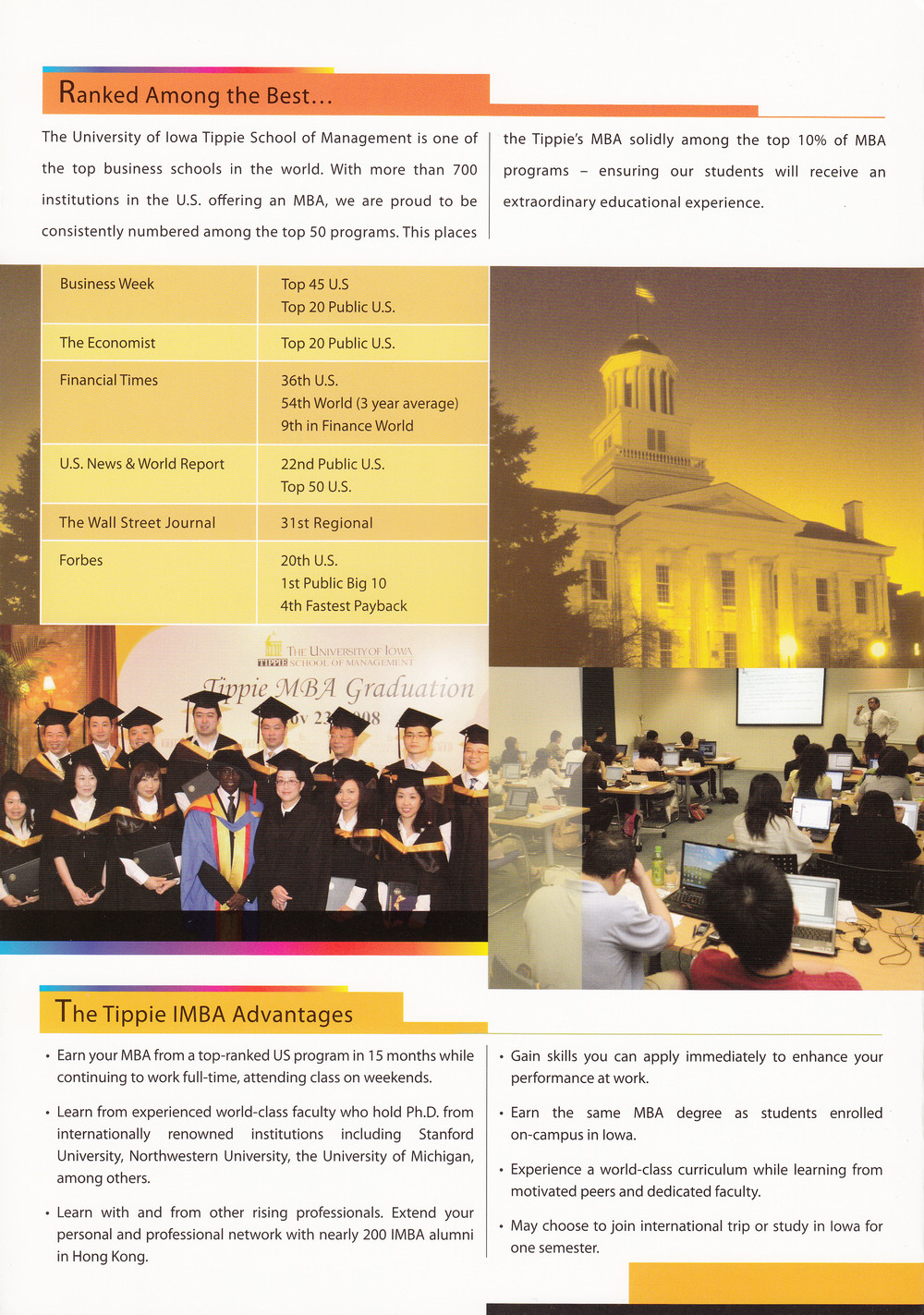 Entry Requirements
---
Academic record – First, a bachelor's degree is required. That aside, your academic record should clearly show us your ability to complete a rigorous academic program. It's needed to consider the difficulty of your major and rigor of your previous institution, plus your GPA.
Work experience – Understanding life in the business world is necessary to get the most out of the Hong Kong MBA. We expect at least three years of full-time work experience, and we look for professional experiences that show your ability to succeed in the business environment.
Leadership – Your leadership potential should be clear through community involvement and achievements in the workplace.
Communication – Because the courses are taught in English, you may need to show the evidence of your English ability in order to grant admission.
如欲申請入讀美國愛荷華大學工商管理碩士學位課程,請致電6580 2368與我們的教育顧問聯絡